What We Do
Green Valley Landscape Services include landscape maintenance, water management, irrigation, integrated pest management, tree trimming, and removal. We can handle every aspect of commercial landscape management.
Who We Serve
We are experienced in serving a wide range of customers, including homeowner's associations, master associations, business centers, and corporate campuses in San Diego and Riverside counties.
Our Mission
Our goal is to provide a service committed to detail at an honest and comparable price. Your landscape investment is important to us, and we pledge to maintain your property courteously and expertly.
Our skilled team members will collaborate with you to design and implement new hardscape enhancements. Alternatively, we can connect you with a landscape architect from our network with whom we have collaborated on previous projects.
At Green Valley Landscape, we grade and prepare various planting areas, including seeding for greenbelts and large turf areas. We design and install planter areas, concrete walkways, curbs, and retaining walls. Our landscape and renovation programs include soil analysis and fertilization, problem-solving, planting, weed control, and pruning.
Seasonal Color
Whether you want to add vibrant color and lushness or completely re-design your landscape, we have the expertise, training, and experience to complete the job.
Green Valley Landscape provides landscape enhancements that will dramatically improve the look and value of your property. Our team includes multiple certified landscape technicians who bring invaluable expertise and insights in soil analysis, irrigation, and planting. The personnel at Green Valley, ranging from field managers to supervisors, foremen, and uniformed crews, stand out for their exceptional service and knowledge. Our all-inclusive landscape and renovation program includes soil analysis, fertilization, troubleshooting, planting, weed control, and pruning.
Oak Valley Tree Service
We offer a full-service tree division through our sister company, Oak Valley Tree Service that facilitates consultations with our certified arborists, enabling us to assist you in achieving your objectives through an annual tree maintenance plan. We provide various services such as tree removal, tree trimming, tree pruning, stump removal, and even fire and brush abatement. Our skilled tree crew ensures that all trimmings are promptly cleaned and hauled away from your property on the same day the service is done.
Water Management and Irrigation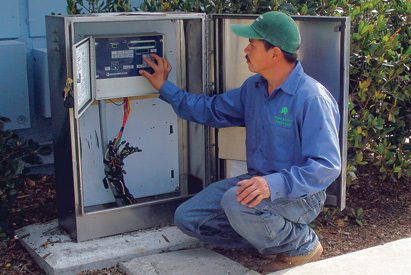 Smart Controller Installation
Our irrigation technicians specialize in installing and maintaining smart controllers. Additionally, we assist our clients in applying for rebates and vouchers provided through San Diego County Water Authority programs.
Our team of irrigation specialists is well-educated and highly experienced in all facets of the latest irrigation system designs. We excel at installing and operating these water-conserving systems, ensuring optimal water usage for all types of turf and plant species. Our irrigation experts are adept at preventing water wastage by identifying and rectifying irrigation issues, including mainline breaks, valve replacements, controller wire problems, and the implementation of backflow preventers
Integrated Pest Management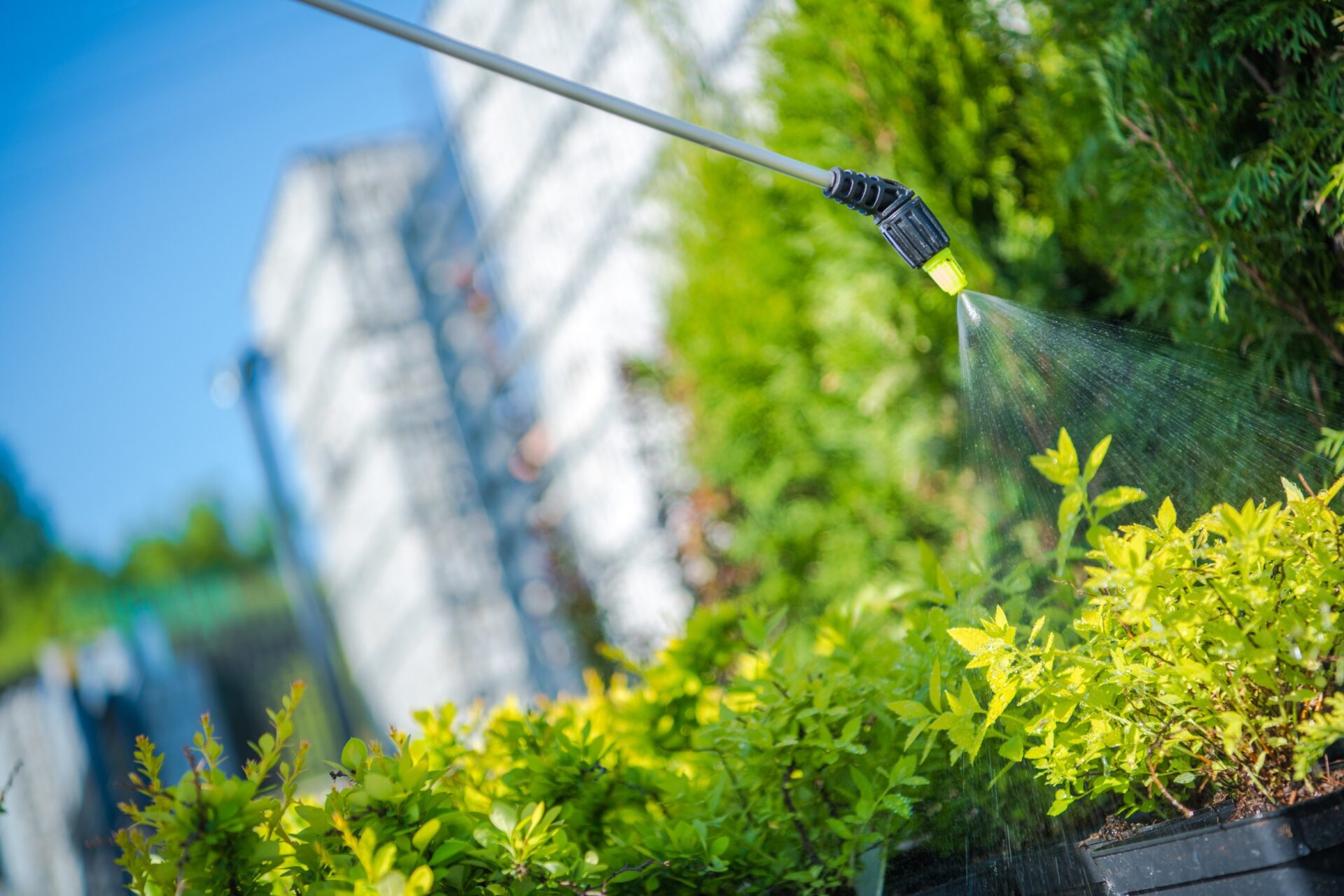 Our Pest Management Strategies
Keep Your Community Pest-Free with GVLM's Integrated Pest Control Approach.
At GVLM, we prioritize the well-being of our communities by ensuring they remain pest-free. That's why we have incorporated an effective and eco-friendly solution into our contract. Our comprehensive approach combines pesticide and organic methods to eliminate any pesky pests or weeds in landscaped areas. We always strive to use the fastest, safest, and most organic methods available, reserving the use of chemicals as a last resort. With our expert team, we provide a holistic weed management strategy that combines non-chemical and chemical methods for optimal effectiveness. Trust GVLM to keep your community flourishing and free from pests and weeds.
Our Environmentally Conscious Approach to Pest and Weed Control
Putting people and wildlife first, we strictly adhere to DPR guidelines and label instructions. Our expert pesticide technicians are extensively trained.
Minimizing the use of pesticides/herbicides is our top priority when it comes to pest and weed control. We employ a combination of non-chemical and chemical methods to manage weeds effectively. Our proactive approach includes:
Use of mulches to prevent weed growth and hand removal of weeds whenever possible.
Herbicides are only used as a last resort for out-of-control weeds or in inaccessible areas.
We also offer 100% organic options. Contact us for more details.

"We see this landscaping crew out in Altimira 1 & 2 (Carlsbad) often. They do a fantastic job keeping up with everything. Everyone is personal and friendly. They always stop noisy or spraying tools when we are walking by. Nice work!"
"Definitely 1 of my TOP 3 favorite places to be during my day. Church and my house are the other two."